To create your own style now is easy as never
Aistis
Contact our super manager and order graphic kit, plastics kit and application services in one place.
1/ Choose your favorite graphic kit or create one with our designer.
2/ Choose UFO Plast plastics kit and colour combination.
3/ Choose graphic kit application option.
Receive it quick and install on a bike in a minutes. Best products value guaranteed compared with separate ordered products or services.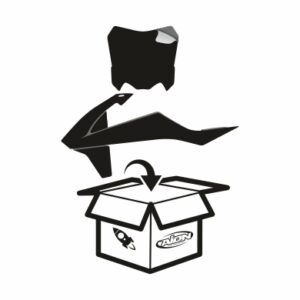 WHY UFO?
UFO Plast was founded in 1977 in Tuscany-Italy and immediately became part of the social imaginary as a true icon of the off-road world. Thanks to the unmistakable design and a meticulous attention to detail and quality, the brand won over fans of all ages, from the most demanding amateurs to professional athletes.
The UFO Plast plastic parts, accessories, caps, helmets and clothing for Motocross, Enduro and many other sports, are recognized and appreciated thanks to their durability, in line with the best Italian tradition.
Checks on every production process and every single material allow the company to achieve high quality standards, and offer sportsmen the satisfaction of always choosing the best, in the Made in UFO style.
A style born to carry out a very specific mission on this planet:
"Being by the side of anyone who wants to -seriously- explore their passions"